PurelyFunctional.tv Newsletter 290: Generative, Non-events, Hammocks
Written by Eric Normand. Published: September 3, 2018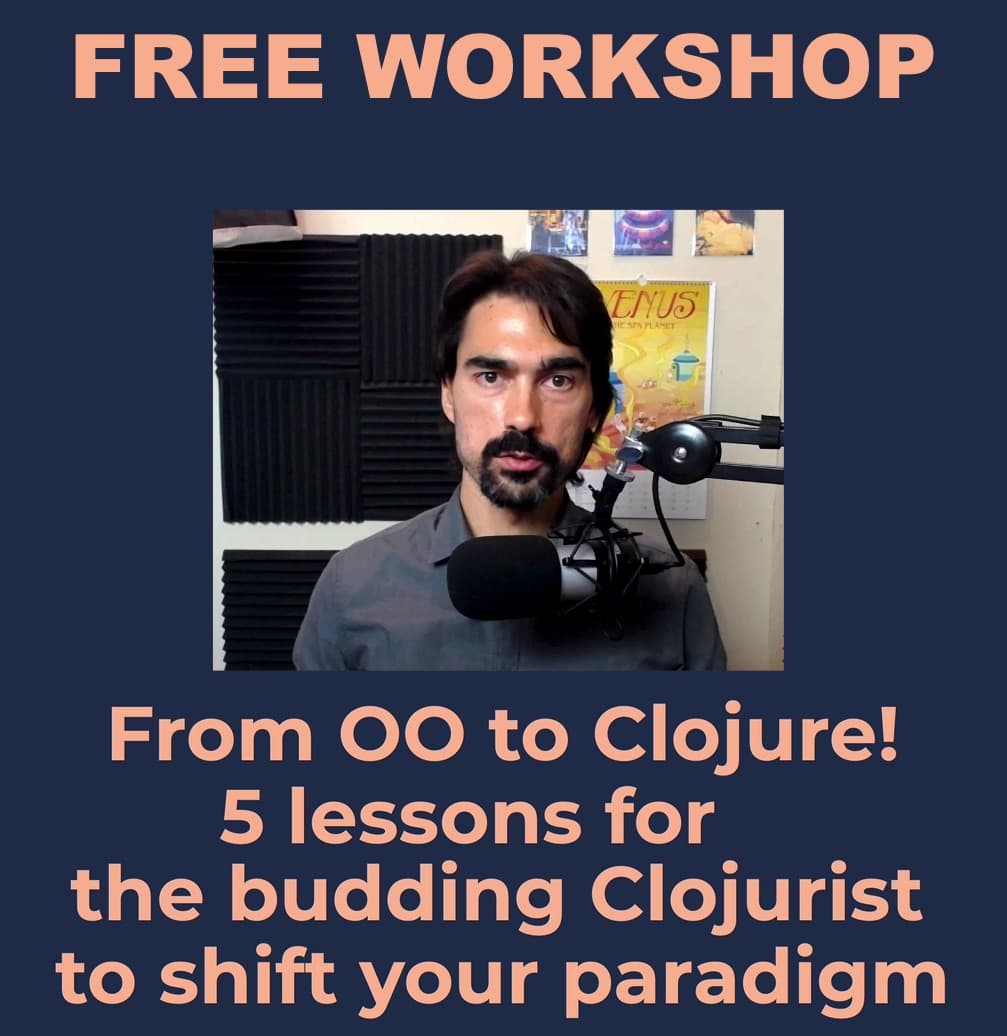 From OO to Clojure Workshop!
Watch my free workshop to help you learn Clojure faster and shift your paradigm to functional.
Issue 290 - September 03, 2018 · Archives · Subscribe
Hi Clojurers,
Please enjoy the issue.
Rock on!
PS Want to get this in your email? Subscribe!
---
My friends are running an Elixir conference called The Big Elixir here in New Orleans in November. They offered me two free tickets to give away to my followers. I put together this giveaway. If you're interested in Elixir, this will be a really cool event. It's right in the heart of the French Quarter, in the same spot where Clojure SYNC was.
They also gave us a discount code for 20%, which you get get by clicking here.
---
In this episode, I discuss why a business might choose Clojure. When companies have proven successful with languages like PHP, JavaScript, and Java, why would a company choose Clojure and risk not being able to hire?
---
Mike Fikes explains one pattern for including macros in your ClojureScript code. I didn't know about this. It seems like ClojureScript is evolving way faster than I can keep up.
---
Valentin Waeselynck on the defn podcast. Val has been impressing me lately with his highly analytical synthesis of great ideas on his blog.
---
Joe Armstrong tries to simplify the study of the history of computer science. What are two papers to read? What are four videos on YouTube? Etc.
---
Adrian Cockcroft talks about failure and how we can prevent disastrous failures by learning from the airline industry.
---
Jessica Kerr talks about how to be generative on a team. Wonderful ideas!
---
The REPL (the email newsletter) has a new podcast. The first episode was with Michael Drogalis. Daniel and Michael talk about stream processing.
---
Zach Tellman discusses his troubles with floating point imprecision, and what he did to work around it.
---
Clojure has macros, but people often say not to use them if you can avoid it. I tend to agree with that advice, but I also went through a period when I wrote way too many macros. It was fun and a great learning experience. I don't think I should deny that same experience to people.
My advice now is that you should play with macros until you come to the same concl usion: they're not for everything. This course gives you a mental framework for developing macros. It even gives you a way to think about whether you need a macro. We build some neat macros together. By they end, you should have a good feel for how to do it yourself.