Top Functional Programming Languages in 2022
Written by Eric Normand. Updated: August 3, 2022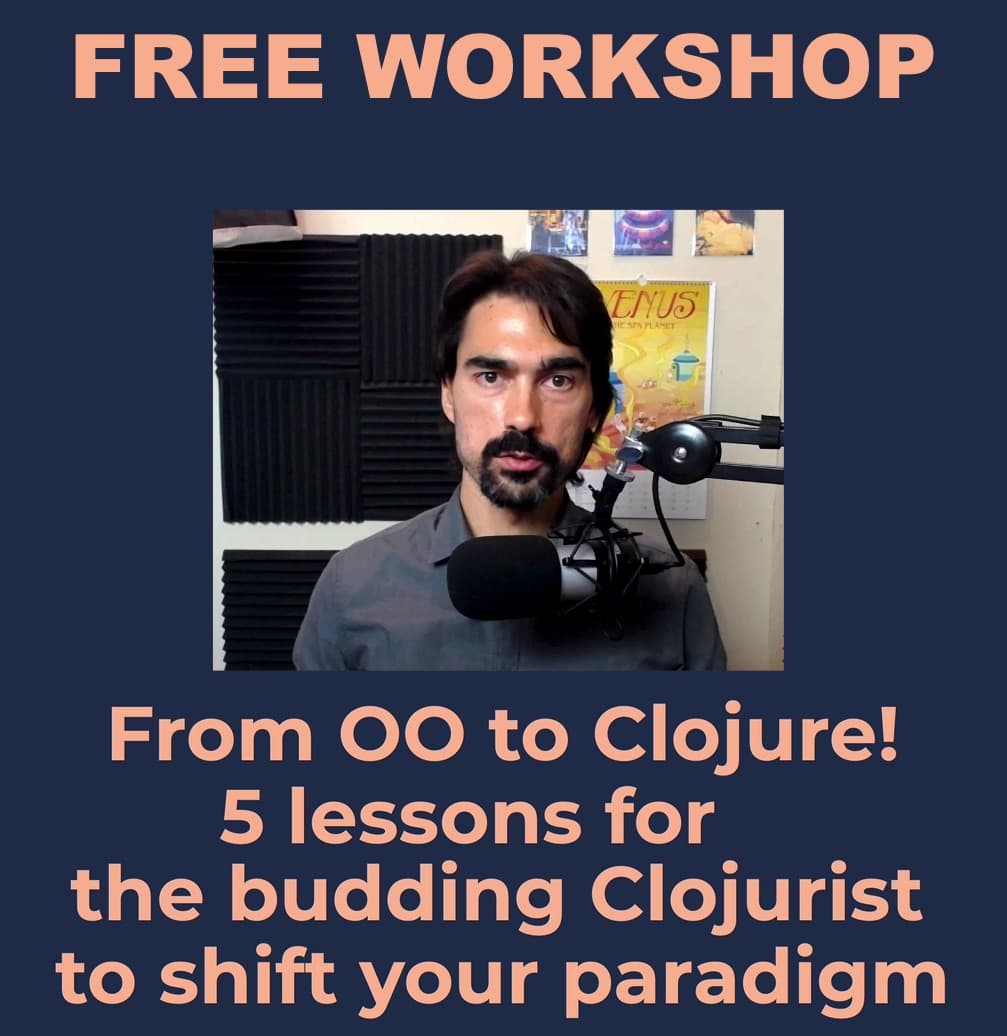 From OO to Clojure Workshop!
Watch my free workshop to help you learn Clojure faster and shift your paradigm to functional.
Functional programming is a fast-growing paradigm. In this guide, we will see the most famous functional programming languages. Along the way, we'll learn what functional programming is, the features that are common in functional languages, and explore languages that are not functional but that have some functional features.
People learn functional programming for many reasons. Some want to expand their understanding of programming, while others want to find a new job. Yet others find that functional programming is more natural to the way they think. Whatever reason is right for you, I have categorized the languages to help you find one that's right for you.
Table of Contents
Functional languages in alphabetical order
Click any language for more details.
What is functional programming?
Functional programming is hard to define. You will find conflicting definitions everywhere. I like to define functional programming like this:
Functional programming is a way of programming where you distinguish between:
actions—code that affects or is affected by the outside world, such as a function that sends an email or a function that reads from a microphone
calculations—computations from inputs to outputs, such as a function that calculates the tax on an sale amount
data—facts about events, such as the price of a product
Making this distinction separates the easy code (calculations and data) from the hard code (actions) so you can spend more attention on the hard stuff.
For a more comprehensive tutorial about functional programming, I recommend my book on the topic, Grokking Simplicity.
What is a functional programming language?
There is no absolute way to determine if a language is a functional programming language. However, by convention, functional programming languages encourage and support functional programming as the major mindset to use in the language. They do this through what they make easy, hard, and impossible.
What are some features of functional programming languages?
It is hard to define what features make a language functional. However, some features are more common in functional languages than in non-functional languages:
Mathematical type systems
Many languages provide these features today. However, having these features does not make them functional. The predominant mindset is still procedural or object-oriented. For instance, JavaScript has first-class functions, but I do not consider it a functional language.
Non-functional languages with functional features
Is Java a functional programming language?
Classic object-oriented language
Functional features

Lambdas (first-class closures)

Why it's not a functional langugage

Predominantly object-oriented

Mixes actions and calculations

Bottom Line

Java is predominantly object-oriented. Recently, some functional features have been added. Their utility is questionable.
Is JavaScript a functional programming language?
The language of the browser
Functional features

Pervasive use of higher-order functions

Functional tools (map/filter/reduce)

Why it's not a functional langugage

Pervasive use of side-effects

Bottom Line

JavaScript does support functional programming, but it requires a lot of discipline. It might be okay for writing functional code, but it's not great for learning functional programming.
Is Python a functional programming language?
Popular language
Functional features

Functional tools (map/filter/reduce)

Why it's not a functional langugage

Lambdas limited to one line

Bottom Line

Python is a popular and practical language. Though it does have some functional features, it is hard to do functional programming in it.
Functional languages with details
Functional languages for different purposes
Functional languages with the most jobs
You may be thinking of learning a new language to get a job doing functional programming. Functional programming jobs are considered rare in the industry, but they do exist. To maximize your chances of learning a language you can get a job in, you should pick one of these languages.
Job count data comes from indeed.com.
Tier 1
Although all of the languages listed previously are production-ready, these four languages have a lot of jobs listed. Ordered roughly from easiest to hardest to get started with.
Tier 2
These three languages don't have as many jobs as the previous list, but there are still many opportunities out there. Ordered roughly from easiest to hardest to get started with.
Functional languages by platform
Another way to organize functional languages is by what's available on the platform you are targeting.
Browser (JavaScript engine)
Ordered roughly from easiest to hardest to get started with.
Web backend
Ordered roughly from easiest to hardest to get started with.
Mobile (iOS and Android)
Native iOS
Dalvik (JVM) Android
Native Android
Xamarin iOS and Android
React Native iOS and Android
Embedded devices
Functional languages by learning opportunity
Immersing yourself in a language can help you learn. You can choose a language based on what it can teach you. Here, you'll find the languages organized by prominent features. They can create a wonderful, immersive learning environment.
Static typing
The most advanced type systems found today are in functional languages. These type systems are based on mathematical logic and are proven to be consistent. Types do more than prevent errors. They can also guide you to design better software. Having a good type system is like having a logician on your shoulder, coaching you into good software. If you'd like to learn more, these languages will immerse you:
Functional tools and data transformation
Most functional languages have good functional tools for doing data transformation. But these languages excel at it. Instead of encouraging you to define new types, these languages operate on a small number of data types and a large number of operations on them.
Concurrency and distributed systems
Most functional languages are good at dealing with multiple threads, mostly because of immutable data structures. However, some excel at it by focusing primarily on that task. These languages have great facilities for correctly managing multiple timelines in a straightforward way. They are organized by different classes of facilities.