Join and build a social network
Written by Eric Normand. Updated: January 6, 2020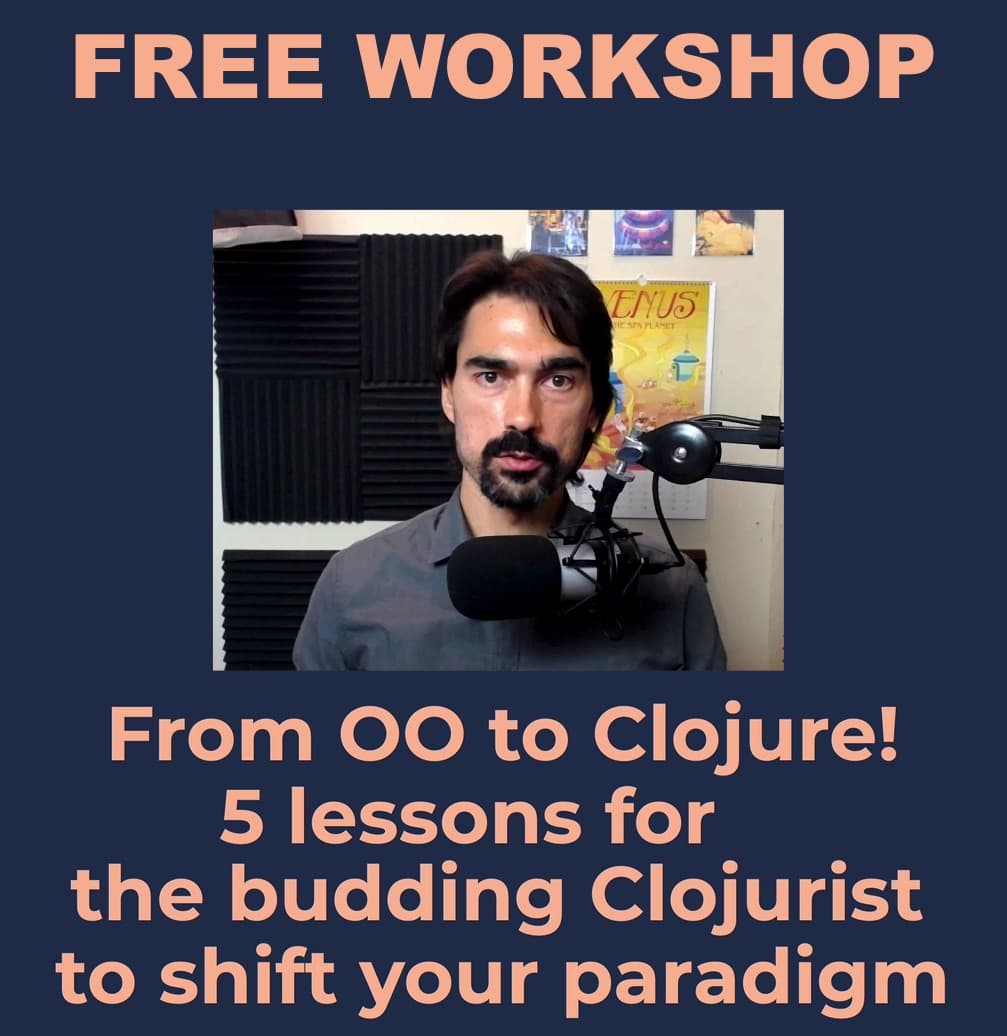 From OO to Clojure Workshop!
Watch my free workshop to help you learn Clojure faster and shift your paradigm to functional.
Who would you rather hire? Someone you've known for a while and who has proven their programming skills? Or someone who mailed in a resume and you talked to for an hour?
Jobs don't happen in a vacuum. People hire their friends. They hire people they know. They recommend people they know. And often the best jobs never become job listings because people are snatched up before the job listing is ready.
The short answer is that you need to know people. The more people you know, the better off you'll be. Here are some places you can meet people
1. Local meetups and user groups
There's nothing better than in-person meetings. You can look up meetups in your area on meetup.com. Visit this page to see functional programming meetups near you. You should actively make these groups work for you. Join groups near you, suggest topics, volunteer to run the meeting or make a presentation. And if you can't find one, start one. That's what I did. After a year of poor attendance, we've built a strong community. Be sure to let everyone know you're looking for work.
2. Conferences
Conferences are great places for meeting people. Functional conferences happen all around the world now. Chances are, there is something happening near you in the next year. Ask around. Often you can get your work to pay for a trip. People are always looking for their next great employees at conferences. Submit talks. If your is accepted, they will often pay your way, including travel and hotel.
Check out PurelyFunctional.tv's list of Functional Conferences.
3. Online hangouts
Online chat has been important for programmers for a long time. Besides the social and learning aspects, often the best documentation for software is asking questions directly to the maintainers. IRC is the classic, but many communities are now on Slack or Discord. There are also mailing lists where a lot of jobs are posted.
Having at least some presence in a community is a good investment in your career. I'm not saying you have to be everywhere, but it helps. Blogging also helps you be recognized in the community.
Action for the day:
After analyzing the technologies for 10 different jobs, you should have quite a number of technologies and languages that you can use as reasons to go out and meet people. Look up and join local meetups for each of the technologies. Meetup.com is a great resource. Attend them.
Some things to do at a meetup:
Introduce yourself to people. People go to meetups partly to socialize, but we're all shy meeting new people, so take the risk and shake some hands.
Ask the organizer what you can present about. As someone who organizes a local meetup, trust me when I say that they're always looking for a good presenter. Take the topic and do some research. Offer to present.
Make an announcement. Many meetups have a time for people to stand up and announce anything they want. Introduce yourself, say why you're there, and mention you're looking for a job.
Ask someone to explain the basics of the system. Tell them you're a complete noob. People love feeling smart by explaining the easy stuff.
Bring your laptop and get the system set up on your local machine. Sure, you can follow a tutorial, but this is way more interactive, usually quicker, and is often less awkward for everyone that chitchat.
Find the online communities for them, too, and join up. They could be online discussion boards, Slacks, IRC rooms, mailing lists, etc.
Things to do in an online community:
Introduce yourself.
Ask people for guidance. Take what you've learned and compile it into blog posts. Share them back with the community.
Help someone out. In short order, you won't be the new person anymore. Pay it forward by going out of your way to help someone.
Next time we're going to begin the application process in earnest.
More posts in the Career Guide